M4KE is our Retail Outlet in Launceston, Cornwall where we are fortunate to be able to represent so many different crafters who handmake their products. Below is a list of just a few of them that we work with:
Angel Glow Beads - an array of jewellery and other beaded items such as wine glass charms, key rings and more.
AR Philp House & Garden Craft - Bird Houses, Bee Hive shaped Garden Tidy, Truggs and other wood products.
Beach Hut - Pebble Art, Beach Bags and Hand Painted Glass.
Cindy Hill - Needle Felting.
Claire Bernard - Artist based in Cornwall - Paintings both original and some prints
DJ Designs - Novelty Aprons in 3 different sizes, toddler, child and adult.
Jessica Foxwell - Cushion covers, coaster and cards from her artwork designs.
Just a Whittle - Hand Carved Wooden Items.
M4KE - lampshades of varying sizes, shapes and designs.
Skip Fairy - Bags and Handbags that are made using reclaimed materials.
Upcycle Lady - decoupaged tiles that can withstand some heat.
Some of the products we sell on behalf our our crafters...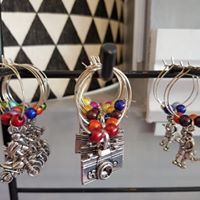 Come and see for yourself